| | | |
| --- | --- | --- |
| | | |
A SOCIALLY EXPLORATORY, CONCEPTUAL, EXPERIENTIAL, STAGED, TEMPORARY GATHERING


How do I relate to the Other(s)? What is the role of the I? And when does the I play a part in a We? With her work, Cindy creates space – both physically and mentally – for these and other related questions. And invites the Other(s) to be a part of it. An interstice in the everyday to investigate and experience the complexity of human relationships and positions.

Every work begins with a 'stepping inside'. A community centre, gallery, studio, museum, website, drawing. This space is the stage for the gathering: a directed scene in which, through a meticulous interplay of space, scenography, human presence and objects, everything is connected and each player is jointly responsible.

In her work, Cindy constantly facilitates and searches for the connection with the Other(s). This search for human connection is woven into every aspect of her work, from the process of creation and research to the final result. She has a multidisciplinary approach and, if necessary, masters new disciplines. A process of discovery and rediscovery, of creation and re-creation, of experience and realisation.

Cindy translates her findings into compositions of abstract forms, colours and sounds that she uses to shape the gatherings. By creating temporary shared spaces where We have something in common, she creates space to explore the dynamics of collectivity. Within the staged gathering, different objects – from socks, steel silhouettes, capes and floor stickers to a piece of music – play a key role. That is, to mediate, seduce or invite. Like the flag of a club, the uniform of an organisation and other ritual objects.

In the complexity of our society, Cindy creates structure, offers a handhold and sets boundaries, so all players can surrender to the moment. A collective yet individual experience. Space to consider and experience yourself, others and the (un)written rules. And to ask yourself: what am I in the midst of all this?

Although its form is constantly changing, the work is based on its own system and overarching framework that gains more definition and meaning with each piece. From this foundation, Cindy is working steadily towards a comprehensive exhibition that brings together past, present and future scenes and players.


TALKING:
Carolien Smit of We Like Art interviewed Cindy about her work. This results in an insight full look behind the scenes.
Peter-Paul van der Houven (PP Producties) filmed and produced a beautiful short documentary about Cindy Moorman and her work. Watch the video at ArtForever.nl

An inspiring videoportrait of Cindy Moorman by the Van Abbemuseum about the composition she wrote for the Van Abbemuseum choir.

A short video impression of Moorman's residency at 'Het Torenkamertje

LET'S TALK:
REQUEST A STUDIO VISIT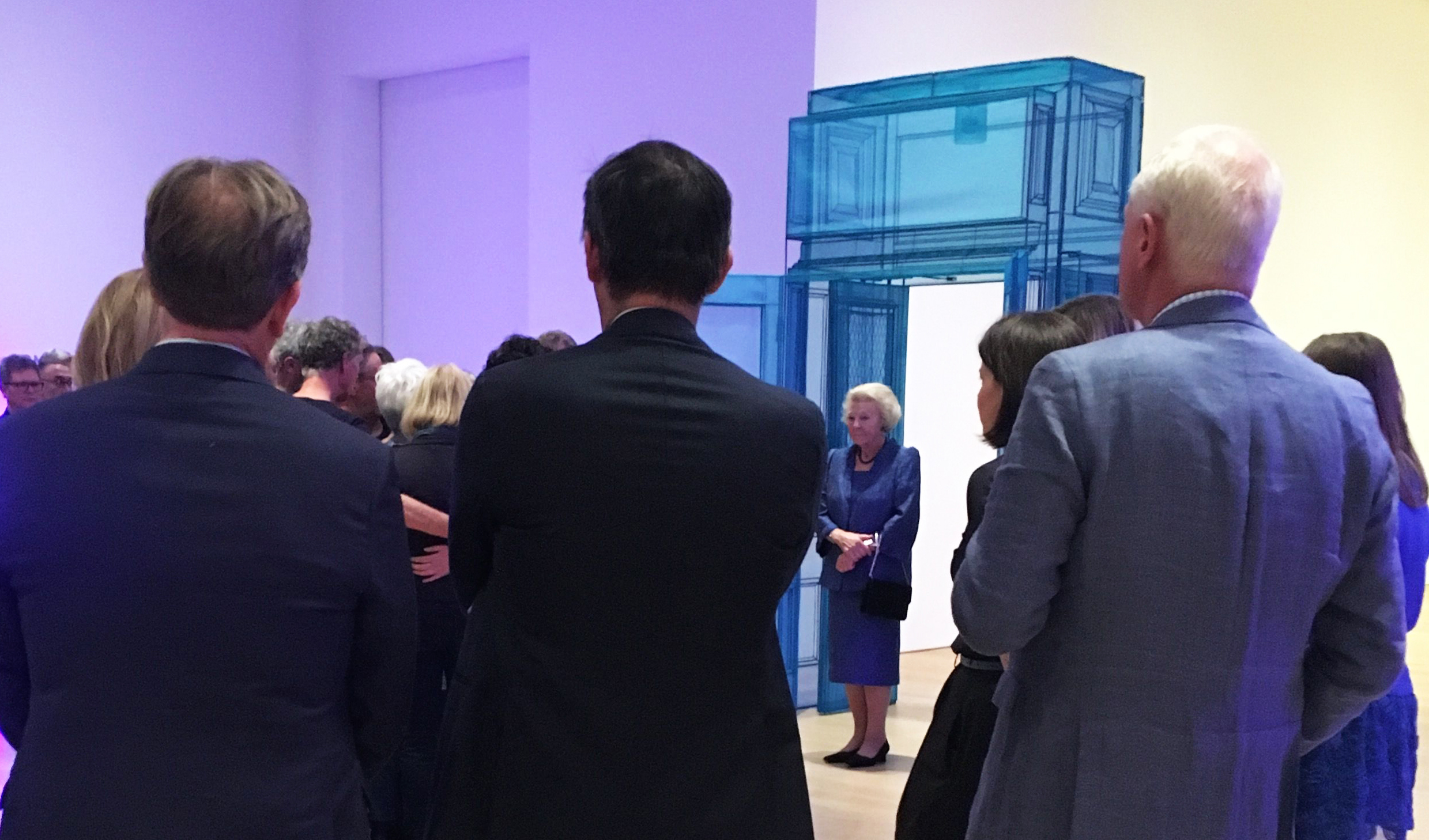 Performance at Museum Voorlinden in the presence of Princess Beatrix, Wassenaar - 2018

BY OTHERS:
Cindy Moorman makes structures visible - ranging from sculptural forms to social rituals. With drawings, performances, paintings, photography and interventions her oeuvre can be considered as much formalistic as socially rooted. Meaning and form are abstracted by Moorman; she makes existing social rituals her own, with a major focus on its physicality. Sanneke Huisman
Cindy Moorman's performance I experienced in the artists' initiative W139. A group of people standing in a circle around a large circular disk, a young man standing on that disk, a shield. Very calm, very slowly he was lifted. The disc inclined slightly to the right, because the length of the carriers was not quite exactly the same. Frozen in time, very slowly ,very easefully. It was a statuary, a sculpture. Hanne Hagenaars
We saw us turn into a small group of people, is the title of a poem ( and of a posy) by Tonnus Oosterhof. That sentence plays through my head when I think of the strange sensation that you undergo during the performance of Moorman. You see and hear how a group of people disconnect from you, groups itself in front of you, becomes unity. Then there dawns the realization that you - by their separation - change into a group of people, a rest group or a peel. That is how it goes. Grouping and being grouped , there is no escape. Sometimes you are banished, sometimes you are included. Rarely do you experience it so consciously during the performance of Cindy Moorman. Richtje Reinsma
One of the images of Moorman that stayed with me the past year is an edited photo in which a group of people stand in a neat and tight circle. Moorman has beheaded them all ( a castration of individuality ) and a flat, blue disc rests on their shoulders which they have to carry as a group. The gesture is as brutal as loving: those helpless bodies next to each other and together share a 'head' that at the same time is a platform on which they can lift someone up. Maaike Lauwaert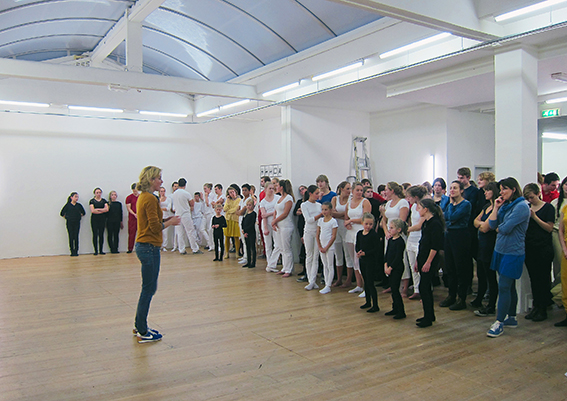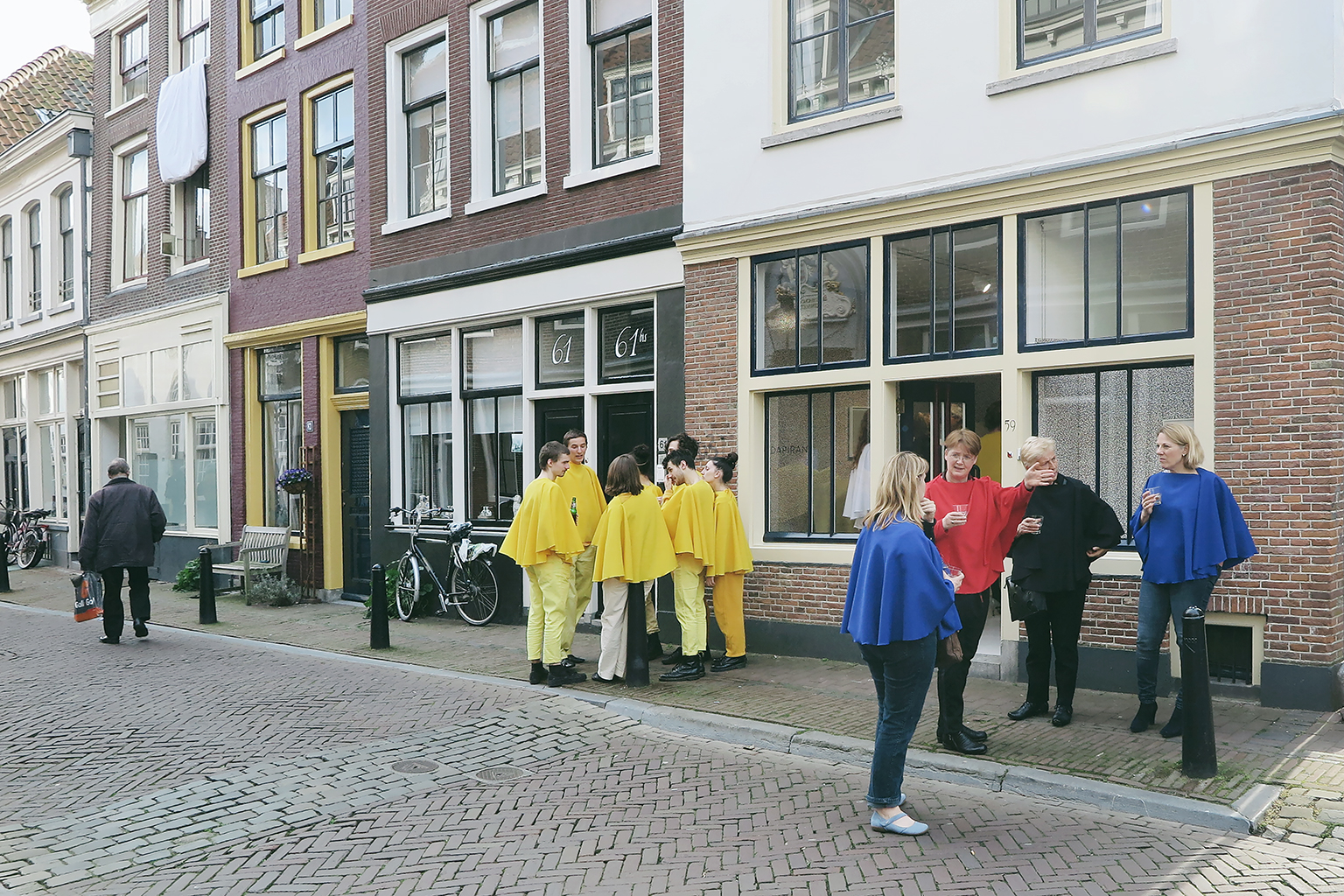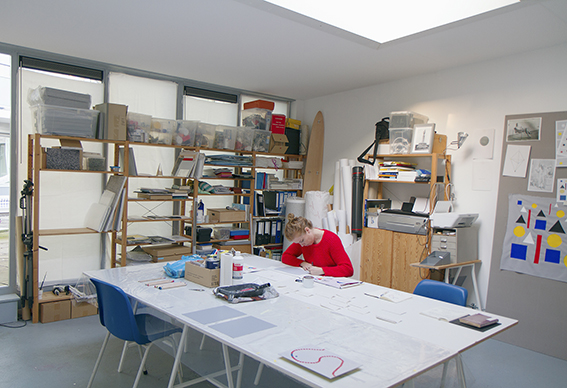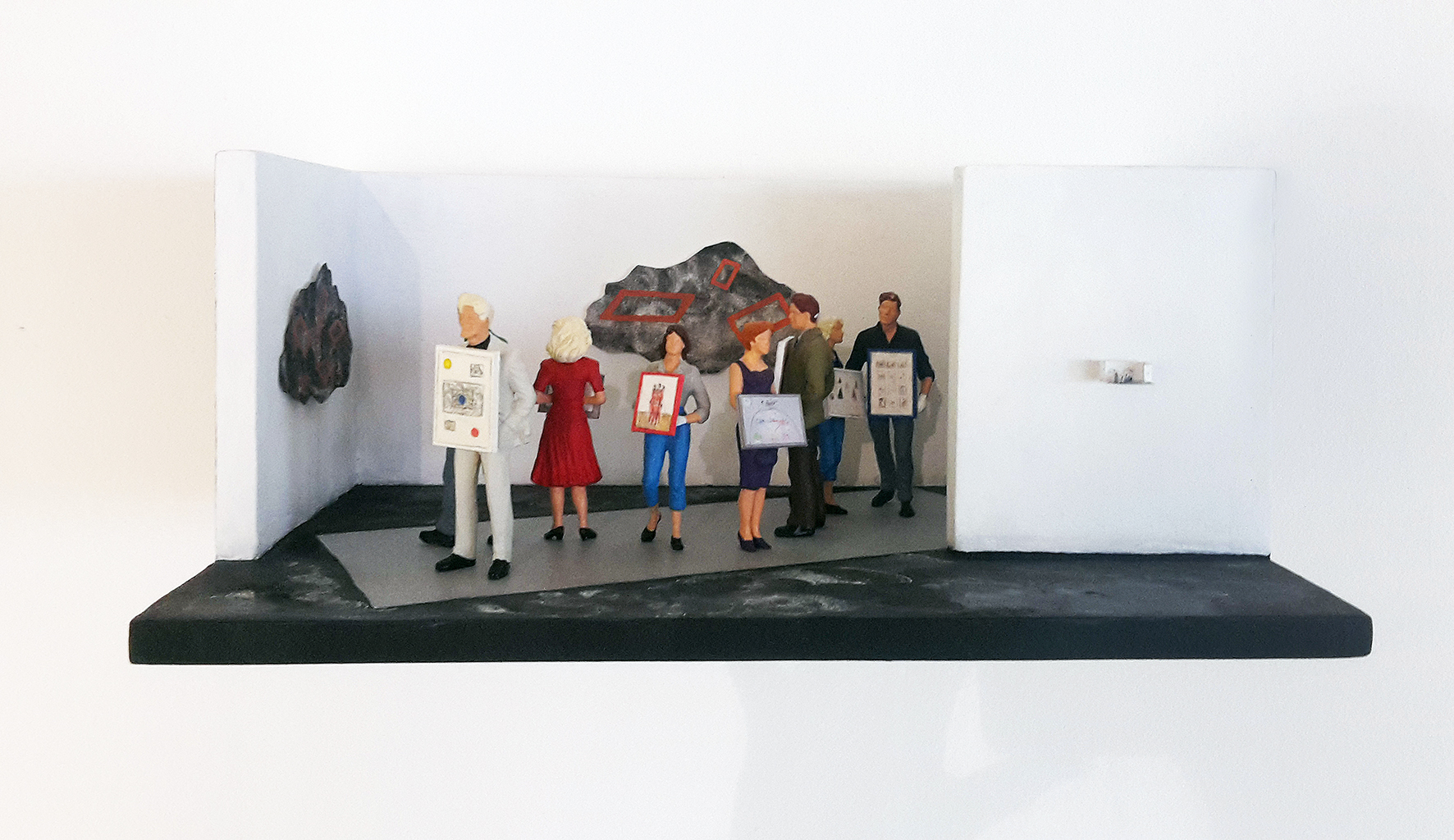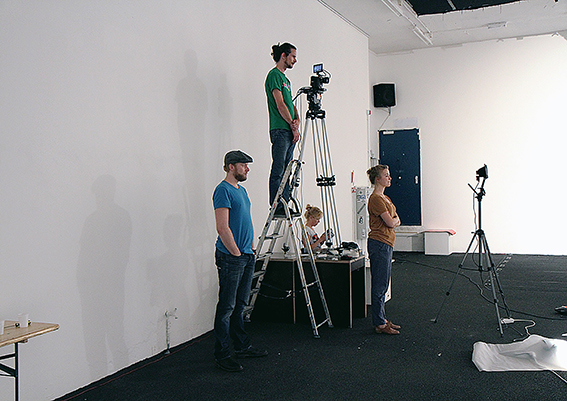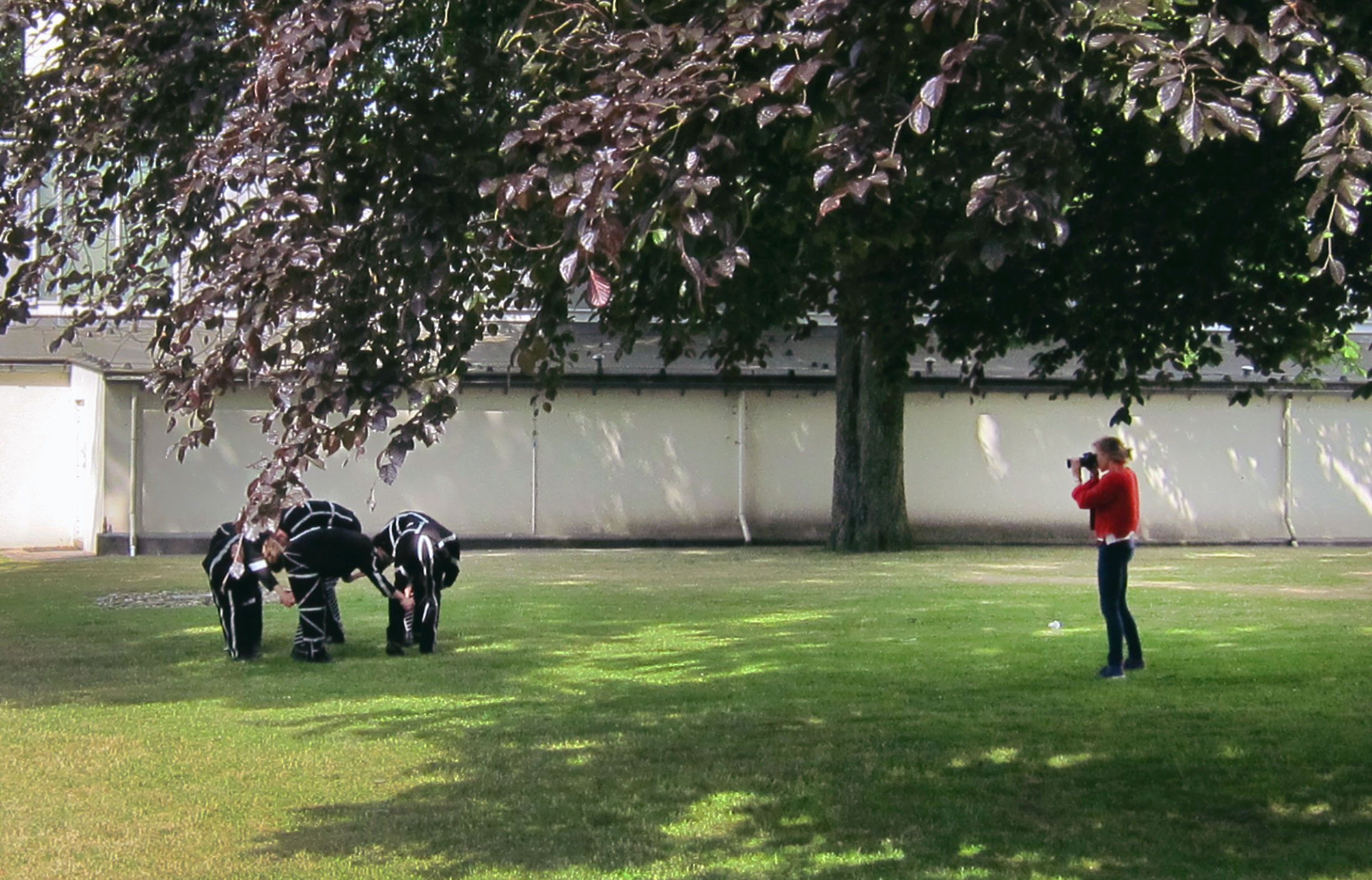 IN SHORT
Cindy Moorman lives and works in Amsterdam. She graduated from the Art Academy in Arnhem (1999-2003) and then studied at the Masters course of Sint Joost in Breda (2003-2005). Moorman's work has a.o. been exhibited in Museum Voorlinden in Wassenaar, the Van Abbemuseum in Eindhoven, the Museum for Modern Art in Arnhem and the Stedelijk Museum Bureau Amsterdam. Her work is included in various private and museum collections, including the collection of the Van Abbeuseum in Eindhoven. And is represented by Dapiran Art Project Space and We Like Art. Moorman's oeuvre has been rewarded with the Stipendium for Established Artists
RECEIVE THE BI-MONTHLY NEWSLETTER